Battery Service and Replacement at Permian Toyota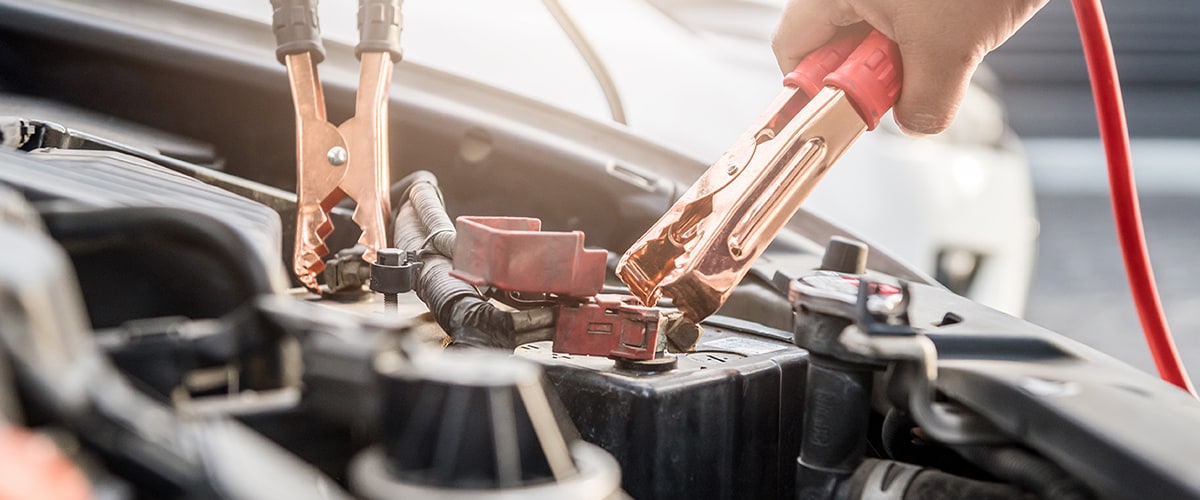 Schedule Battery Service at Permian Toyota
Keeping your Toyota battery in tip-top shape and keeping an eye out for warning signs that it could be on its way out are key parts of maintaining your vehicle's performance. After all, if your car battery is too weak to carry on, you might find that your beloved Toyota won't start. Fortunately, you can count on the team at Permian Toyota for battery service and replacement so that you don't have to suffer through the inconvenience of a dying battery.
How can I tell when I need to replace my Toyota battery?
If your car battery is nearing the end of its lifespan, there a few signs that you can watch out for to help you stay ahead of battery-related problems. Here are a few warning signs that might indicate that your battery needs service or replacement:
Illuminated dashboard warning lights
Battery is more than three years old
Difficulty starting your engine
Dim headlights, especially when you have A/C or heat on
Corrosion on battery posts
Swollen battery case
If you notice any of these symptoms or you run into trouble with getting your car to start, your battery likely needs attention. Feel free to reach out to our service center for help!
Find the Perfect New Toyota Battery
If your vehicle is hard to start and/or has dim headlights when the engine is turned off, your battery is getting weak and should be replaced with a new Toyota TrueStartTM battery. Manufactured to Toyota's exacting standards for quality and performance, these batteries offer the right combination of cold cranking amps (CCA) and reserve capacity (RC) for reliable performance regardless of climate.
Toyota TrueStartTM batteries have been approved by Toyota engineers for years of trouble-free service-and no one knows your Toyota better than they do. Schedule your appointment at Permian Toyota to have your battery serviced or replaced. We will also properly dispose of your old battery to conserve our environment!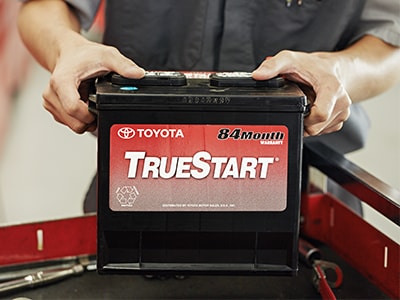 Where can I get a new Toyota battery near me?
If your Toyota needs a new battery, you can find the right one for your needs here at Permian Toyota. We can help you pick out a new battery and replace your old one for you so that you can get your Toyota back up and running at full power again.
Call or stop by our Toyota service center today to set an appointment for battery service or replacement. We look forward to helping you restore your Toyota to maximum strength!
SCHEDULE BATTERY SERVICE
Contact Us
* Indicates a required field
Service Hours
Monday - Friday

7:00 am - 5:00 pm

Saturday

8:00 am - 5:00 pm

Sunday

Closed
See All Department Hours
Dealership Hours
Monday

9:00 am - 7:00 pm

Tuesday

9:00 am - 7:00 pm

Wednesday

9:00 am - 7:00 pm

Thursday

9:00 am - 7:00 pm

Friday

9:00 am - 7:00 pm

Saturday

9:00 am - 5:00 pm

Sunday

Closed To Better Serve You On Monday
Parts Dept. Hours
Monday

7:00 am - 5:00 pm

Tuesday

7:00 am - 5:00 pm

Wednesday

7:00 am - 5:00 pm

Thursday

7:00 am - 5:00 pm

Friday

7:00 am - 5:00 pm

Saturday

Closed

Sunday

Closed
Service Dept. Hours
Monday

7:00 am - 5:00 pm

Tuesday

7:00 am - 5:00 pm

Wednesday

7:00 am - 5:00 pm

Thursday

7:00 am - 5:00 pm

Friday

7:00 am - 5:00 pm

Saturday

8:00 am - 5:00 pm

Sunday

Closed