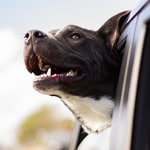 Traveling with your pets can seem overwhelming. With some careful planning and prep-work, it does not have to be. Whether you are taking a dog or a cat with you outside of Hobbs, NM, these tips from Permian Toyota can help.
First, know that you cannot leave your animals alone in the car. This means it is important to travel with another person so that you can take turns running into rest areas and grabbing something to eat. The interior of a car heats up much more quickly than most people realize, which is why pets should never be left unattended.
Second, know that neither dogs nor cats should be allowed to roam free in your vehicle. Cats can get underneath your feet and cause problems, and dogs can be distracting. Your dog should not be allowed to stick his head out of the window, either, because debris can fly up and cause an injury.