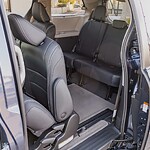 A leader in the minivan market, the new Toyota Sienna offers a wide variety of convenience features that make it easy to drive and fun to own. Capable of seating up to seven, it features an all-wheel drive train. This design makes it easier to handle in inclement weather and also maximizes your safety if you slide or skid in snow or ice.
It also comes with a pedestrian detection system that can alert you to people walking in front of your vehicle. This system can be particularly important when you are driving in the dark or in foggy or hazy conditions where it is difficult to see ahead of you. You avoid hitting someone crossing traffic in front of your vehicle.
You can appreciate all of the convenience features that the new Toyota Sienna has to offer owners like you. Test drive one now to learn more about it.