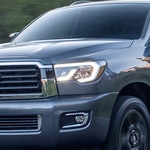 Even though you leave your home, that doesn't mean that you have to leave technology behind. In fact, when it comes to the Toyota Sequoia, the technology you crave is front and center, assisting you with various tasks to help make your drive more enjoyable. Here are just a few of the innovative technology features that you'll be able to enjoy in your Sequoia.
One great feature is the available Dynamic Navigation system. Rather than having to rely on your smartphone to direct you to your destination in Hobbs, NM, you can count on the in-dash navigation system to show you the fastest route and help you find nearby points of interest. Another feature you'll love is the Wi-Fi Connect system. This system allows you to stay connected with your favorite devices wherever you are, thanks to a 4G LTE cellular connection that's built into your Sequoia.
Of course, there's plenty more to see and enjoy in the Toyota Sequoia. Stop by Permian Toyota today and see all that's waiting for you.